Custom furniture on display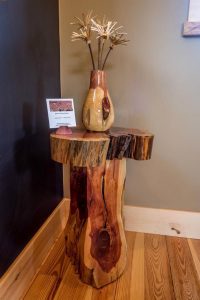 Mountain Real Estate Company is honored to display beautiful, hand crafted furniture by Jon Rosen of John's Custom Rustics.  We met John at the 2014 Bethel Art Fair, which happened to be the 25th Anniversary of the event.  He ended up accepting just a few moments after our meeting the "Best in Show" artist award.   Here are John's own words about one of the pieces on display and available for viewing at 227 Skiway Road:
"This unique and versatile Red Cedar piece is something that I had imagined for a while.  My vision became real as I milled the log and began to hand chisel all the connecting joints.  Red Cedar is a pleasure to work with and has a unique grain that produces interesting and beautiful creations.  The log used for this piece was part of a trailer load of Red Cedar that was given to me as payment by the homeowner in Kingston, Ma for removing them from his property.  This table is one three pieces on display at Mountain Real Estate Company.