June 13, 2014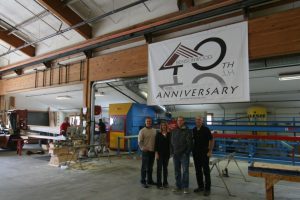 Sometimes Buyers can't find exactly the property they are dreaming of when it comes to their ski house getaway. They dream of building something custom but feel overwhelmed by the process—let's face it, we're all busy. There's the career and personal demands on top of maintaining a primary home. The thought of designing and building a new home, and having to make many trips to Maine during the process, can feel too daunting.
I have had Buyers who really felt there was no choice but to build given what they wanted in a house and the lack of an available property that met all of their needs. I don't think one client that did it has a single regret and they have homes that they will keep for years to come. There are excellent builders in the area that we can recommend who are talented and hardworking, honest and provide fair pricing. Although it still involves a need for the Buyers to make trips at times during the construction phase, once the relationship is established with any of the area's most reputable builders, the worry of not being here daily to oversee the process is removed.
There's also another option to consider if it still feels like just too much.
Bensonwood just last year celebrated its 40th Anniversary of building quality timberframe homes. Based in Walpole, New Hampshire, the company employs an impressive team of architects, designers, technology gurus and journeymen.   While the timberframe concept has been around for centuries, today's technology provides a process that begins with meeting with architects to design your custom home to the milling of the timbers in the Walpole plant. As a Bensonwood catalog describes, "A Bensonwood home reveals distinctions at every turn. You'll find them in details as subtle as chamfered edges at the corners of each timber, splined joinery crafted in hardwoods such as cherry, and mortised through –tenons holding ceiling joists to a massive beam in the great room."
The best part? After the up-front work of designing your home with the architects, much of which, can be done virtually, the timeframe from the delivery of the home to the site to completion is weeks, not months.
The team here had the privilege of visiting the Bensonwood plant in New Hampshire last fall, and meeting its founder, Ted Benson. We were duly impressed with the operation. Already, we knew the energy efficiency of the products because our Skiway office at Sunday River Resort is a Bensonwood, and I happen to live in one as well. With foot-thick walls I can honestly state that it's the first winter I have been toasty warm at both work and home. (Many a client has come in to the office and asked if they could convert our office to a condo—with its attractive appearance and slope views it'd be perfect!)
For those people looking for a streamlined process, the efficacy and quality of a Bensonwood home makes perfect sense.   For more information, visit www.bensonwood.com.