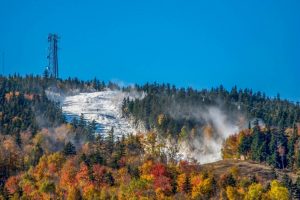 Since the last market update, T2 and Sunday Punch have been covered top to bottom in snow and the 2015 buzz word is "snowliage".   Sunday River was able to open for some of its best, earliest conditions in my memory (which dates back 15 years in Newry).
The second half of the summer and early fall marked another robust period with August in particular standing out with an atypical number of showings and inquiries. I base my opinions on my own experience with my Buyer clients but also based on activity with my listings.
My report includes Albany Township, Bethel, Greenwood, Hanover, Newry and Woodstock, and primarily consists of homes with sale prices of $150,000 and above, most land and condominiums.
Starting with single-family homes, there were 34 homes that sold in the period, 12 of which were chalets, which seems a little less weighted than usual and just five were in Newry, another statistical anomaly.
Topping the list in Newry were home in The Peaks that sold at $1.25 million, and in The Colony and Mahoosuc Glen at $760,000 and $740,000, respectively. Others in Newry included chalets on Monkey Brook and in The Peaks that closed at $465,000 and $444,400, respectively.   Just across the street from the chalet on Monkey Brook a charming, vintage contemporary sold for $152,000 (pause for fun story…I was just getting ready to show this house one summer day and the daughter of the original owner/builder who sold the house more than 30 years prior, showed up with her young family. She lives in New Jersey and wanted her kids to see where she grew up. Nothing had changed, right down to the wallpaper!).
Of the 12 homes sold in Bethel, half were chalets and included one in Timber Creek for $355,000 and others in Deer View ($301,500), Pleasant Knoll ($335,000), Locke View Drive, which is located off the Sunday River access road ($310,000), Vernon Street ($237,000) and Hemlock Ridge, off North Road, ($226,900). A cape with dormers in Deer View that has been on the market for years sold for $370,000. There was a home on Route 2, Mayville Road that sold for $340,000 and an antique Gambrel on the Sunday River Road for $232,000 and a New Englander sold on the quintessential New England street, Church Street, for $259,000.
There were six homes that sold in Greenwood, including a Howe Hill Road property that sold at $320,000, a farmhouse on Greenwood Road for $248,000, and two contemporaries on Spruce Lane and Cross Road that sold for $200,000 and $168,000, respectively.   In Woodstock, a Colonial sold for $350,000 on Birch Street, a camp on what else but Camp Road for $227,000 and another camp on Mann Road for $158,500.
Rounding out the pertinent sales was a contemporary home on Seeley Gate Road (Howard Pond) at $384,000 and a camp on South Shore Road at $160,000, a chalet with pond and horse barn on Lange Road in Albany Township at $350,000, and homes also in that town on Baker Road ($288,550) and Hutchinson Pond Road ($279,000).
Condominiums
While the condominium market did not feel particularly hot this past summer and fall, 19 sold is about in the middle of the last two years' sales of 21 and 18 for the same time period. All but four were in Newry, with three in Bethel,  two in Riverbend at $129,000 and $82,900, one at Eden Ridge ($122,500) and finally one in Greenwood at $43,000.
The condominiums sold in Newry varied in sale price from $700,000 to $106,000 and included one sale in Tempest Ridge (at the top of the price range) and three in Locke Mountain ($365,000 to $530,000), a North Peak two-bedroom unit at $177,000, two in South Ridge $277,000 and $209,500, three one-bedrooms in Fall Line ranging from $122,500 to $133,000, and one-bedrooms in Cascades ($124,000 and White Cap ($110,000 and $108,000) and finally, a one-bedroom in Brookside at $106,000.
Land
Over the weekend I was on the phone with a wise woman whose family dates back six generations in the Bethel area. She was questioning a client's interest in her land (she has a keen interest in land preservation) and she reminded me very matter of factly that "they aren't making it anymore." Touché. Fortunately for me my client shares the same philosophy and I think has even uttered the same phrase.
So after that segue, there were 19 total parcels sold in the marketplace during this period, which is the exact number as the year before during this period but notably less than the 30 parcels in 2013. My bent? A spate of lots sold in that year that eventually became spec home lots, and also notable is that most were in existing subdivisions.
This year, in this time period, which is admittedly random, there were three parcels in Newry sold, including a 421 acre parcel off the Bear River Road for $299,900 and lots in The Peaks (2.96 acres for $170,000) and Peaks Village, .39 acres for $93,000.   The latter two have commanding views of Sunday River slopes of course.   There was an 85-acre parcel that sold in Greenwood for $322,500, the priciest during this time period, though there may be recent sales in the slope side development, The Glades in Newry, in a higher range. These stats are strictly what is recorded on the Multiple Listing Service (MLS).
Another large parcel of 202 acres sold in Bethel on the East Bethel Road for $180,000 and 110 acres in Albany Township sold for $110,000 and yet a 1-acre parcel sold on Morning Star Lane (Songo Pond) for $170,000 and a 1.1 acre lot sold on Twitchell Pond where a structure cannot be built due to shoreland zoning sold for $100,000. (Remember, location, location, location? It's for a reason! )
Besides a 16-acre parcel in Bethel that actually comprises of six lots in an existing subdivision that sold for $107,500, other lots sold in Hanover (30 acres for $92,000) and Bethel (six total ranging from $16,500 to $81,000) and Woodstock (three ranging from $9,000 to $34,500).
Lots of statistics but my goal as always is to provide a snapshot to our agency Buyers and Sellers (or prospective ones at that). And as always, contact us if you would like more information on properties in the Greater Sunday River region. Happy, snowy days ahead.