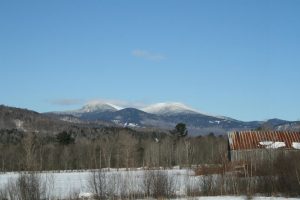 From my perch facing White Cap and the slopes of White Heat, Obsession and Shockwave, I'm thinking about the looming N'Easter that is forecast to dump oodles of snow on Sunday River.  As a lifelong skier, and more important, longtime ski resort town resident and worker, this is always a good thing.  More than 13 years ago I uprooted myself from a lovely seacoast town in Southern Maine because if there was a cold, miserable rain in the middle of February, folks in the grocery store and post office would declare "well, at least it's not snow."  Say what?
I needed to be in a place where snow in winter meant there was more to do: ski alpine or Nordic, snowshoe, snowmobile, sled, ice fishing or ice climbing.  I saw a Facebook post recently about winter camping enthusiasts—can't say that'd be my idea of fun but I sure thought it was awesome that other people do.   And my point is, the possibilities for winter adventure seem endless and well, everything from November to March really does just look prettier when covered in a fresh snowfall.
I found this "place" in the Bethel/Newry region, mainly like-minded people that welcomed each storm like I always had—hardy outdoors people that grab the kids on a snow day and go play.
If you're hooked on winter and hooked on Sunday River and want to spend more time with like-minded souls who love the outdoors and the snow, and haven't done so already, maybe it's time to invest in a place here to call your own.
Whether you'd like to experiment first with a rental, need assistance in exploring property options, or need help with financing, we're here to help.  Anthony will be building his inventory of rentals for the 2014-2015 season.  For the month of March, Michael has special rates and programs through People's United Bank for purchase loans.  And I am always available to discuss the multitude of choices of properties in our region.
Embrace the coming storm and make your plans for what looks to be an epic weekend ahead.